Continuing our in-depth recap of Marc Webb's 2012 reboot of Spider-Man, starring Andrew Garfield and Emma Stone. When we left off, Peter Parker had learned two things: that his spider-enhanced abilities gave him a unique ability to get justice (or revenge) on the man who killed his Uncle Ben, and that it might be a good idea to cover his face during his nightly escapades.
At first, he goes out in normal street clothes with a mask he has designed with lenses that cover his eyes.
Over time, Spider-Man begins to develop a reputation as a vigilante, getting onto the radar of Police Captain Stacy (Gwen's father, played by Denis Leary) once he starts delivering webbed-up criminals directly to police headquarters. At school, Gwen Stacy also notices Peter's knuckles are scraped like hes been fighting.
Then he starts getting more creative, ordering a racing suit worn by lugers (this film's apparent explanation for the whole costume bit is barely hinted at sideways in a scene where a couple of nerds talk about the speed at which a pendulum swings being determined in part by wind resistance, hence the luge suit), and silk-screening a spider emblem onto it. The other, more controversial thing he does is mail-order a bunch of Oscorp Biocable (the stuff being produced by the spiders in the lab, including the one that bit him), hundreds of miles of spider-silk in tiny canisters. Peter designs a special wrist-worn web-shooter that enables him to deploy it quickly and precisely, after a couple of false starts.
While I appreciate the full-circle-ness of Peter perfecting a product originally developed by his father (who bred the spiders), it opens up so many questions in terms of both the police and Oscorp potentially being able to track down Spider-Man once they realize he's using Oscorp Biocable. The questions are never really addressed, except in one throwaway line where Dr. Connors later recognizes the webbing as an Oscorp product.
Finally, once the costume is completely finished, Peter catches a car thief in a scene which contains so many things which I like and dislike almost in equal measure. The good: I like Peter's cockiness and sense of humor. One thing the Raimi films never quite nailed was Spider-Man's tendency to wisecrack in costume. Tobey Maguire tries, but even when he's cracking wise, he just sounds so Magiure-ly earnest and soft-spoken. Garfield nails the attitude, even when the lines he's saying are kind of stupid (yelling "CROTCH!" before leaping up and wrapping his legs around the crook's head, for instance).
I kind of like Spidey's weirdly angular body language in this, but also kind of hate it. It gives him a strangeness factor that really works in moments like the one when he has the crook trapped and then moves in to check for the tattoo. But other times, you just want to smack him and say "stand up straight!"
The bad: in their efforts to make Spider-Man come off as cool and super, they have him appear and disappear in ways that are physically impossible unless he can literally dematerialize and walk through walls. Also, the editing of theaction is too fast and off-rhythm. I get that they're trying to emphasize his freaky-fast speed and reflexes, but the dark lighting and the spotty editing frustrate me more than excite me.
All that said, the close-up when Spidey goes quiet and we move in on that eyeless face is genuinely a little disturbing. This is the effect that Batman is always trying to achieve on-screen, and never quite hitting, mainly because you can see his eyes.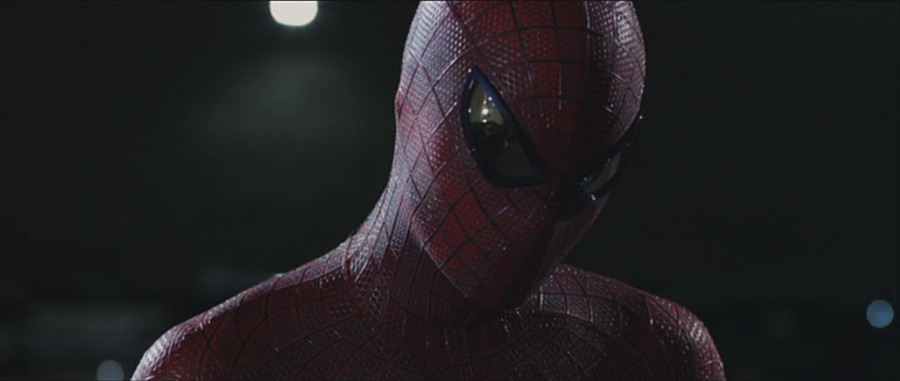 The cops show up and try to arrest Spider-Man, so he has to flee. But the cops are nothing next to Aunt May, who is waiting up when he gets home and is horrified to see his banged-up face. I'm not a huge fan of Sally Field, but she plays Aunt May's horror and frustration at what Peter is doing to himself really well here.
Back at Oscorp, Dr. Connors's boss is impressed by the rat's regrown leg and wants to try the serum out on humans. Â He proposes giving "vitamin supplement" shots to veterans. Connors refuses, and the boss tells him he's fired, since the corporation owns the serum anyway. Connors panics, injects himself with his own serum and passes out, Dr. Jekyll style. Â At school,Gwen asks Peter to dinner at her house.
Later, Dr. Connors awakes with a new, not-quite-fully-finished arm.
At Gwen's place, Peter has dinner with her, her parents and her brothers. Captain Stacy starts talking about how this spider-vigilante is an amateur and a menace who needs to be taken off the streets. Peter disagrees and an argument starts that Gwen defuses by taking Peter to the roof where he demonstrates his secret to her by webbing her butt and yanking her into his arms.
But they are interrupted, first by Gwen's mom, and then by sirens. Turns out that Dr. Connors, in trying to catch his boss who is on his way to a veteran's hospital, has turned into a giant lizard-man and is terrorizing the Williamsburg Bridge.
Peter uses his webs to stop several cars from plunging into the water and then saves a young boy who is trapped in one of the cars. It's a good scene in which Peter takes off his mask to establish a rapport with the boy and also in which Peter realizes that there's more he can do with his powers than just hunt down the guy who shot Uncle Ben (who is still not caught and will be forgotten from now on).
Peter goes to visit Dr. Connors (who is now human and one-armed again) to see if he can help figure out how to stop the Lizard (Connors apparently managed to kill his boss before he could turn in that 'Dr. Connors is fired' paperwork). Peter starts to suspect something is wrong because one, Connors is acting super-sketchy, two, he has a weird scaly patch of skin on his neck, and three, Freddie the rat has turned into a super-strong lizard Muto-Rat who has broken out of his cage, killed and eaten his fellow rats.
Connors heads down to build a secret lab in the sewer. Peter goes to Captain Stacy to report Dr. Connors, but he sounds like a crazy man because it's a crazy story. As he's leaving the station, Peter sees lizards heading into a sewer grate, so he goes down into the sewer in costume and spins a web. His plan is to catch photos of the Lizard with a camera he has rigged to shoot when the web is tripped. He is discovered by the Lizard, and the two fight. Spider-Man barely escapes with his life.
Peter goes to Gwen's to get help with his wounds. The Lizard discovers the automatic camera with "Property of Peter Parker" on the back. He now knows Spider-Man's secret identity. That's not good.
Got to say, so far, I kind of like the reboot. There are things I miss about Sam Raimi's version, but there are things I think this version actually does better. Â If this movie can stick the landing, it will be a respectable contender.